As I write this on October 15, I just got back from Upper Dam, where I fished in a teeshirt because it was 70 degrees. The water temperature…58 degrees…much warmer than expected for this time of year. Anybody still doubt our climate is changing?
After a warm and dry September (again), some trout and salmon finally started moving up rivers and streams at the very end of the month. Fishing turned on in Kennebago River for example on the last two days of the season as water temperatures finally dropped and water was released from the dam.
I never guide the last day of the season, reserving that time to fish with friends or family. I got up at 0-dark-30 to have a few hours on the Kennebago to myself. At a pool by the name of Green Island, I fished uneventfully and unsuccessfully as the light slowly brightened on a cloudy day. On my last cast before heading home for a very late breakfast and maybe a nap, I sleepily cast a prince nymph as  far across the pool as I could in order to tighten the line on the reel in an orderly fashion. I was abruptly shocked awake by a strong take. The female salmon that I eventually landed turned out to be the largest I have ever landed on Kennebago – somewhere around five pounds, certainly no less. Tough to get any sort of photo by yourself if you don't want to put the fish on dry land but you get the idea of his size given that I have big- can palm a basketball – hands…
Later on in the afternoon, in some sort of cosmic karma balancing, my wife caught the largest landlocked in her life on the exact same prince nymph fly.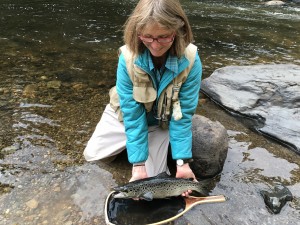 With water temperatures still relatively warm, for waters that are still open, I assume that lake and pond fishing will stay good until the end of the month as will river fishing  where there is sufficient water.