Late June and early July brought relatively cool weather and precious little rain for anybody. While parts of New England enjoyed some hit and miss thunderstorms that kept rivers and streams running, other areas were bone dry. For example, Kennebago River never had any real spring salmon run because of continued low water. On July 5 its temperature was 72 degrees, not good. In late June, I fished through the gorge of the Diamond River in the Dartmouth Grant because of water running at only 50 cfs. I fished with folks that have fished there for 20 years and have never fished the gorge because usually it is impossible if not dangerous.
The Rapid River and lower Magalloway both were at 300 cfs for most of this time, also extremely low. Charlie, the owner of Evening Sun Fly Shop in Massachusetts told me that the Squannacook River in early July reached record low levels. It makes for tough river fishing, although I have heard good reports. The West Branch of the Penobscot has been fishing well because that area received a bunch of thunderstorms and cooler weather (and of course it is a bottom-release dam draining a huge watershed).
A gentlemen I know sent me this photo of a 26.5 inch brown he took from the White River.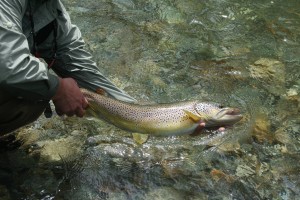 That river does not give up its fish easily but those who take the time to know its idiosyncracies, catch some impressive fish.
On the new book front, "Flyfisher's Guide to New England" is now out and available. It has received some early great reviews as "THE where-to-go resource for New England". Retail distribution will slowly increase over time but right now it is available at the Evening Sun Fly Shop in MA., Rangeley Sport Shop in Rangeley, ME., Maine Sport Outfitters in Rockport, and The Tackle Shop in Portland, Maine. It is also available at Amazon and from me directly signed if you send me an email. By all means go into your local book store or fly-fishing store and ask for it. That will give them the incentive to order it for their store.