My email these days is filled with folks asking me fishing questions so for this blog post, I will just answer them!
When was ice-out?
In the Rangeley area, it was within the last seven days, in fact higher elevations ponds still have at least a partial coating of ice. Further south, ice has been out for two weeks or so. However, the water remains cold because of cloudy days and cold nights. Patches of snow still linger in the woods in the Kennebago area.
How is the fishing?
Fishing has been slow because of high and cold water. In fact the lower Mags is running at 2000 cfs versus 350 for most of last year. I don't know if I remember it being that high . A heavy snowpack melted quickly in Rangeley, followed by occasional rain. This is resulting in the spring run-off being closer to historical norms versus several dry springs over the last five years. While this means a slow start to moving-water fishing, it bodes well for sufficient water flows later in the year and good ground water levels.
Smelt are running in places, but perhaps not yet where water temps are still hovering around 40 degrees. Lake and pond fishing where smelt are running up brooks is where I would want to be fishing.
Does the high water mean that spring runs of salmon will push up rivers such as Kennebago?
Not necessarily. At least in Kennebago, salmon don't really take advantage of high water flows until temps hit 50 degrees. Hopefully when the river warms up, water flows will still be high.
Do you have any fun fishing photos/stories?
Always. My guiding partner Abby from Kismet Ouftitters has been doing some drift boat guiding in western Mass. and found some really nice brown trout in the Hoosic River.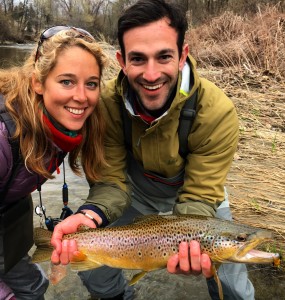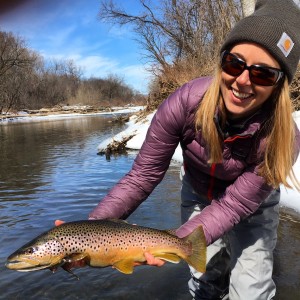 How is the new book selling?
Very well. We are going to start a second printing soon, which will allow me to update the book a little, correct a few typos and include a few more waters. "Flyfisher's Guide to New England" can now be found in almost every fly fishing outlet in New England, but it does sell out quickly and doesn't always find its way back onto the shelves in a timely manner. Remember, you can always purchase the book from me directly, signed of course. Just email me.
Enjoy the beginning of a new fishing season.
Lou